Power Juniors is the perfect introduction to volleyball that will teach young athletes (boys and girls Grades 4th through 7th) the fundamentals of passing, setting, and serving. If you have little to no experience, this is the program for you. We hope you join us!
Power Juniors King of Prussia is led by Coach Dawn and Coach Lorraine. They have helped create the culture of East Coast Power since it began and they focus on the technique and skill progression!
Together, the coaching duo of Lorraine Ford and Dawn Keiser has developed young volleyball players in our area for over 14 years at the club, high school, and CYO levels. In fact, they coached the first ever 12-Perwinkle. They have created an atmosphere of competitiveness, training fun, and of course winning. 
They have taken their coaching passion to the Power Juniors program at ECP. Together, they want to develop the fundamental volleyball skills in the younger generation of athletes, demonstrating their passion and love for the game, in a positive coaching environment.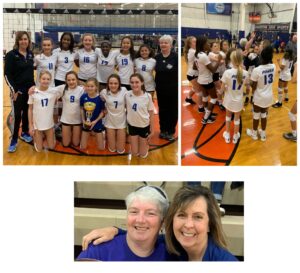 Want your child to get in on the action? Get them involved in Power Juniors!
WHO:
Boys and Girls Grades 4th through 7th
WHEN:
Practice will be one night a week
Mondays from 6:00 pm to 7:00 pm
Monday, December 11th
Monday, December 18th
Monday, January 8th
Monday, January 15th
Monday, January 22nd
Monday, January 29th
WHERE:
Competitive Edge Sports
320 S. Henderson Road
King of Prussia, PA 19406